Amie uses only professional artist materials to create her paintings. This includes top qualiity materials such as Golden Artist Acrylics, Schmincke Norma Oils and hand made supports.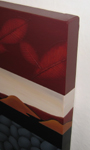 Amie's paintings are on cotton duck canvas or linen, hand stretched over quality kiln dried wooden stretcher bars creating a three-dimensional appearance with the canvas sitting about 40mm from the wall. With this method no frame is required, although if you prefer your local professional framer will be able to help you with attractive framing options.
Each painting has strong nylon cord fixed to back ready to be hung from picture hooks/nails and brown paper tape is used to cover the back edges to give a clean look and a final touch of professionalism. Most paintings are finished with varnish to ensure that the paint is protected for its lifetime.
Always handle your painting carefully to avoid knocks which can chip the paint. You may lightly dust the painting when it's needed or occasionally give it a very light clean with a soft, clean damp cloth using only water. It is recommended to place artworks out of direct sunlight as fading could occur over many years if constantly subjected to the sun.