After discovering a love of painting, Amie McCarron left a successful corporate career in internet design and development to pursue her dream to be a full-time artist. Drawing inspiration from nature, the universe and the beauty of our country, Amie creates original paintings from her home studio located in Petone. Primarily self-taught, Amie has developed a unique style with an earthy quality reflecting the New Zealand environment. She has been recognised for her artwork many times in the media.
"The reason I paint is simply because I love the act of painting itself. It is important to me that my art has a positive quality and brings pleasure to the viewer."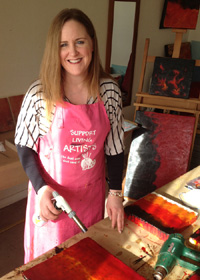 Amie's abstract works have resulted from discovering encaustic; an ancient yet beautiful medium of pigment suspended in a beeswax and resin base. By building up layers of encaustic paint and fusing together with heat, sometimes scraping back to reveal the history, Amie creates paintings with brilliant luminosity and a rich delicate opalescence. Preferring a natural palette of deep rich colours, Amie's art is tactile, exudes warmth and often creates a sense of drama or romance.
"I find inner calm in the act of creating itself. Encaustic allows me to express myself without words, working intuitively while allowing the images to reveal themselves in an unpredictable but honest way. Within my paintings are colours of fire, warmth and sensuous beauty along with the delicious scent of pure beeswax wafting from their surface."
Amie's contemporary landscapes incorporate elements of nature and her figurative pieces place emphasis on the beauty of the female form. Her preferred medium for these pieces is acrylic on high quality hand-stretched canvas.
Establishing herself in a short time, Amie's work has been accepted into many art events and also won the painting category at the 4th National Women's Work Art Awards. Now a successful exhibiting artist, Amie's paintings are held in private collections around the world.